It is crazy to know that fall is just around the corner I can hear pumpkin spice latte's calling my name……
This months style guide is dedicated to leg warmers. Leg warmers, you say?!?! " But, Erin, leg warmers like TOTALLY went out in the 80′, like for sure"!  No, no ,they are STILL in style, like for sure.
Leg warmers have come a long way from the cheaply made 80's version. Now we have knitted leg warmers, up-cycled leg warmers made from sweaters, and so much more. There are many ways to wear your ultra cute legwarmers without looking like a flashdancer too! Wear them over leggings with a cute skirt, over skinny jeans and paired with ankle boots, pair with flats or pumps for a bit of zest to your style.
*Check out these adorable hand crocheted lace up leg warmers from Handmade Health on Etsy*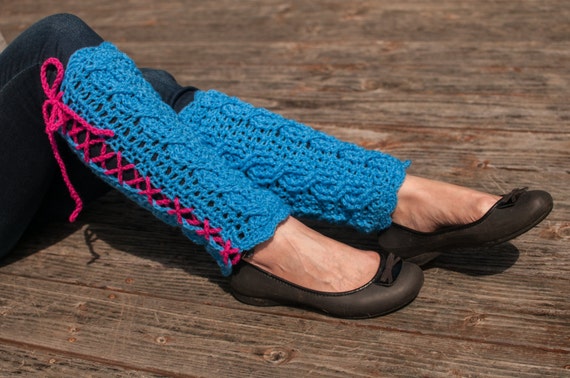 Legwarmers are also extremely utilitarian, keeping your legs extra warm during the cold months; they also work extremely well for yoga or pilates! Whatever your reason, don't miss out on getting yourself a pair, in the style that suits you best. Excellent as a birthday/holiday gift as well.
*Gorgeous handmade, upcycled sweater legwarmers, one size fits all(really!) @ Dramatique Designs  <—— click here*
Click 'follow' or subscribe with your email and be sure to confirm your subscription in your inbox! Get ready for the best in fashion, funnies, business advice, DIY's and more!* ***To comment on the post, click the post, scroll to the bottom and comment away!****
                                                                    XOXO Fans,
Dramatique Erin