Happy June 1st! The weather in my part of the world(Oregon) is certainly cooperating ; it has been in the 80's !
Of course is it raining today, but that is why Oregonians are so adventurous; we deal with the rain, and relish the sun! Since I know the sun will continue to come out of hiding, I have been thinking of warm weather wear.
I have been trying to wear more dresses as of lately. Becoming more comfortable with my body, and relishing my womanly shape is vital. I think as women we need feel comfortable in our own skin, and glow at how beautiful we truly are.
I have always loved maxi dresses. They are flowing, beautiful, and have a sense of elegance to them. They truly make me feel girly, and I enjoy showing off my body in them! Maxi dresses, to me, are not a staple that will ever go out of style. They have been popular since the 1960's.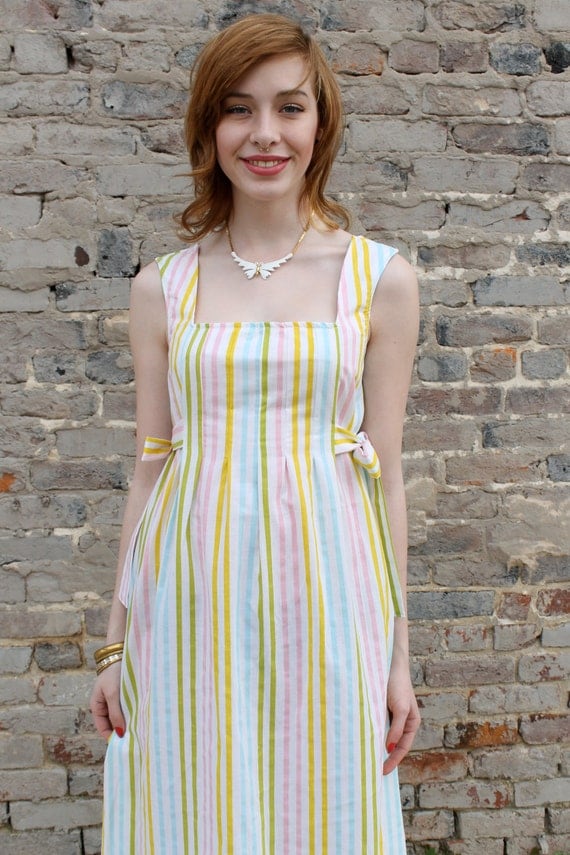 ***find this super  cute vintage maxi dress @ http://www.shopebv.etsy.com***
Maxi dresses truly have it all comfortable, elegant, and stylish. Need a beach cover-up? Wear a maxi dress! Going on a casual date? Wear a maxi dress!! Going to a work function but don't want to wear an uncomfortable suit? Wear a maxi dress with a chic blazer! maxi! maxi! maxi! Ok, I am calm I swear, I just got a teensy overly excited:)
***This amazing maxi dress is made in the USA and can be found at http://www.modcloth.com***
Whatever color, fabric combo you choose, maxi dresses are an effortless choice for the summer. Pair your fabulous dress with a pair of wedges, or stylish flip flops and you are ready to rock this summer like never before!
Click 'follow' or subscribe with your email and be sure to confirm your subscription in your inbox! Get ready for the best in fashion, funnies, business advice, DIY's and more!* ***To comment on the post, click the post, scroll to the bottom and comment away!****
                                                                    XOXO Fans,
                                                                   Dramatic Erin