What do YOU think of when you think of crochet? Your granny crocheting you your annual Christmas afghan?  Dolls with handmade froofy dresses? While that is still ever-present in the crochet world, other styles have been around since the 60's , and are becoming more and more popular in present fashion.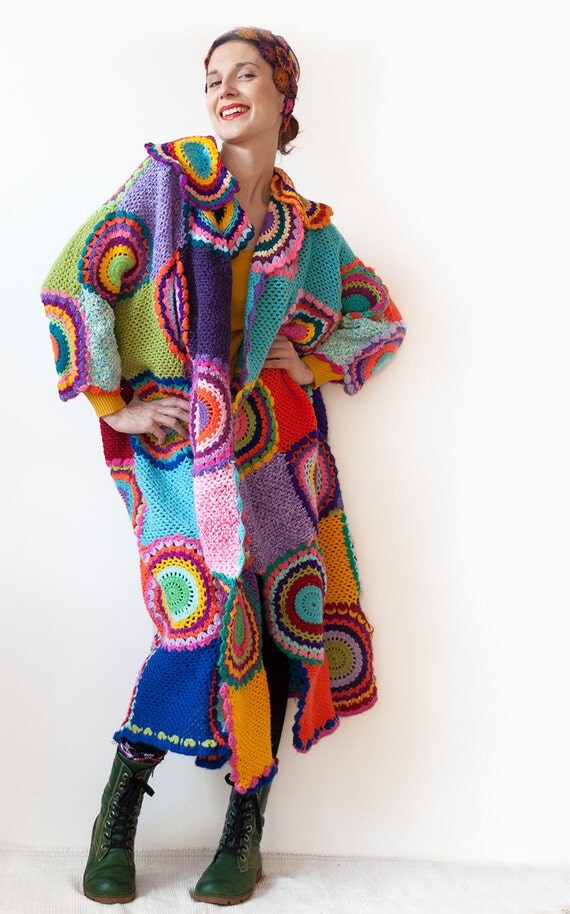 *This gorgeous handmade coat can be found with other colorful items @ http://www.subrosa123.etsy.com*
I have always loved 'wearable art' and the idea that a meticulously put together form of art can be draped on the body beautifully. It is one of the top reasons I began designing and sewing.  Wearable art is not widely noticed or even appreciated, except in the fashion world. I say start bringing on those creative juices, be green, and start creating!
One of my favorite free form artisits is 'Janet Lipkin' Like several of the other artists in the 1970's crochet art-to-wear movement, Lipkin was a graduate of the Pratt Institute art school and amongst those there who set the stage for fiber and art wear to be taken seriously be the art world.She was know for her three-dimensional, highly textural, sculptural crochet stitches. I admire her very much, and she inspires me to create. and be crazy with my designs!
*One of Janet's many amazing creations; a free form bird coat*
Of course crochet, sewing, ect does not ALWAYS have to be wild and crazy. Simplicity is always appreciated as well. With fall in full effect; hats, mittens, and scarfs alike are popping up in stores everywhere, although I am much more of a 'hand made' advocate. Owning something made by hand, and not machine made, makes all the difference in the world.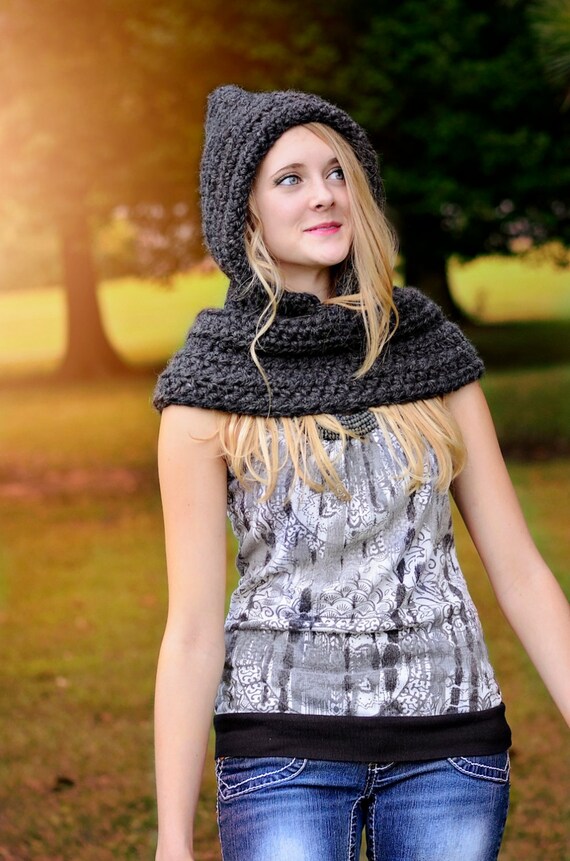 *This adorable crocheted pixie hood can be found, with many other wonder items @ http://www.simplymadebyerin.etsy.com, and she and I share the same name, so OBVIOUSLY she is totally awesome:) *
So take some time to peruse all the handmade crocheted items on sites like etsy, amongst others and support handmade crafting. Look cute doing it as well!  I have a knit shop I will soon be adding crochet too, find me @ http://www.hipknitism.etsy.com
Check out my upcycled clothing and accessory shop as well @ http://www.dramatiquedesigns.etsy.com